'As heroic as it is dramatic, this novel offers a great adventure with the perfect mix of suspense and sensitivity. The sequel can't come soon enough!'
Lanfeust Mag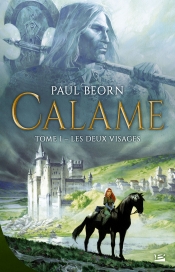 Calame
Paul BEORN
Summary
---
After a year of civil war in the kingdom of Westalie, the rebels are brutally crushed during an attack on the capital. Their legendary leader, Darran Dahl, is killed in a fight with the king himself, and his supporters are thrown into the dungeons.
D'Arterac, a famous collector of legends with an uncanny ability to discern truth from fiction, discovers young Maura, Darran Dahl's first lieutenant, in a cell. He offers her a deal: she will be spared execution in exchange for the true story of the rebel leader, a mysterious warrior of obscure beginnings who was said to have been indestructible.
The young girl tells D'Arterac all about Dahl, whose story hides more than one secret… if Maura is telling the whole truth. For she is making the most of her reprieve by formulating a plan to escape and take up the fight again.