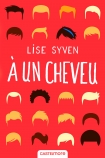 By a Hair
(A un cheveu)
Lise SYVEN
Summary
---
Matthéo is in his senior year of high school and is a totally normal boy… until premature baldness sets in. His life quickly becomes hell. Not only does he become the favourite target for bullies, but he also loses any hope of catching the eye of the beautiful Suraya.
His cousin decides to help and makes him wear a wig, and that's a win: he is suddenly entirely hot! But still, no way he's going to wear the hairpiece at school and endure the inevitable mocking. He will wear it only on weekends for now.
"Disguised" like this, Matthéo hopes he will get Suraya to notice him. But against all expectations, he attracts the attention of Léane, her flamboyant and often caustic friend, and starts going out with her.
Yet he will soon learn that juggling two lives can be like walking on a tightrope as fine as a strand of hair.
Key points
---
A delightful portrayal of a lovable loser that reads like a TV series
Tackling the themes of harassment at school, lack of self-confidence, and accepting oneself
A story that promotes diversity through a poignant, dramatic and witty tale
• A delightful portrayal of a lovable loser that reads like a TV series
• Tackling the themes of harassment at school, lack of self-confidence, and accepting oneself
• A story that promotes diversity through a poignant, dramatic and witty tale
78 000 words
---
ALL RIGHTS AVAILABLE