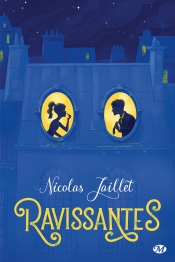 Ravishing
(Ravissantes)
Nicolas JAILLET
Summary
---
Ilona Kowalsk is young and beautiful. It's her job – she's a model. She gets up early, does lots of sport, eats little, doesn't drink, doesn't go out. But that is no way to find a soul mate. She intimidates most men, and those she doesn't scare away seem to only want to be seen strutting with her on their arm.
Lucie Chanterelle, her accomplice and agent, is five foot two and weighs 180 pounds. She may not be in the same league as Ilona but she has lots more luck with men. She never holds back when it comes to eating, drinking, or socialising. Maybe that's why men find her irresistibly sexy?
When Zlotan Marvelis, a fashion designer on his way to greatness, decides to hire Ilona, Lucie decrees that it is time for her friend and protégée to learn to relax. So she calls on her pal Pierre Barbier, a part-time gigolo, who immediately falls for Ilona's fragile charm. But Ilona asks him for help in her plan to seduce her boss, Zlotan. Pierre reluctantly agrees, all the while trying to keep his real job a secret from Ilona.