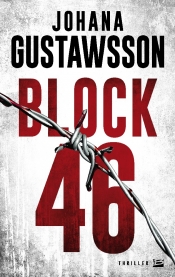 Block 46
Johana GUSTAWSSON
Summary
---
Falkenberg, Sweden. Police superintendent Bergström finds the frozen naked body of a woman at Olofsbo beach.
London. A renowned profiler, the taciturn Emily Roy investigates a series of murders of children whose savagely mutilated bodies present the same wounds as the Swedish victim: the throat torn out, the eyes removed, and a mysterious Y carved on one arm.
A strange thing for a serial killer, to change both the type of prey and the hunting grounds... or is it in fact a pair of psychopaths at work?
The numerous questions raised by the two cases send Emily Roy to Sweden, where she meets an old acquaintance, the tenacious Alexis Castells, a French writer who specialises in serial killers.
These two women with opposite personalities will have to chase killers as elusive as they are perverse. A pursuit that will lead them to the atrocities that took place in Buchenwald in 1944.
'Emily Roy and Alexis Castells make a terrific, original duo. They have a future.' THE TIMES
'A bold and intelligent read.' THE GUARDIAN
'A powerful movie-like thriller with amazing characters. You won't be able to put it down.' TELE POCHE
AWARDS:
NOUVELLE PLUME D'ARGENT 2016
PRIX DU BALAI DE LA DECOUVERTE 2016
PRIX MARSEILLAIS DU POLAR 2017
MOVIE RIGHTS SOLD
Key points
---
The first novel in a series of well-researched investigations set in England and Sweden to be adapted in a major TV show
A duo of female investigators consumed, through writing and psychological study, by their fascination for serial killers
A plunge into the history of the Second World War and the barbarity of the Nazi camps
A page-turner evoking the best Scandinavian crime novels
80 000 words
Full manuscript available in English
Rights Sold (7 countries)
---
BRAZIL
CZECH REPUBLIC
ITALY
ROMANIA
SPAIN
TAIWAN (CHINESE COMPLEX CHARACTERS)
UNITED KINGDOM